Trinity has expanded its value-added services. Driven by customer demand, we are now offering laminating, pre-finishing, and CNC machining to our colored MDF, Tricoya ExDF, and Bamboo products.
When we started Trinity Innovations, we focused on wholesaling specialized architectural panel products to the North American millwork, cabinetry, and furniture segments – which remains our main focus.
However, our smaller customers and architecture/design contacts occasionally ask us if we can covert raw panels into their designs to save them the time required find subcontractors to convert these raw materials into their finished product. Also, as we continue to innovate new products and, in particular, new innovative combinations of our products, we've expanded our capabilities to offer many of these value-added features ourselves
Having the capacity to offer these services means quicker lead times and may lower final costs. Our motto remains our inspiration – EXPLORING THE POSSIBILITIES!
Trinity Innovations can now coat full sheets along with smaller components. We also pre-finish edges through a special process we've developed, maintaining a consistent color and texture on all exposed surfaces.
We focus on clear finishes, and, depending on the finish, we utilize HPLV or airless spray systems for a highly consistent finish.
We currently offer two (2) clear finishes for interior applications – ProFinish™ and ProFinish Eco™ – that are fully compatible with our Colored MDF, GrassBuilt, MOSO Bamboo, and veneer laminated components.
Our ProFinish consists of a catalyzed clear lacquer. This coating provides excellent durability for a clear finish and has performed well in café tables, bar tops, office furniture, wall panels, and cabinet doors. We have also developed a complimentary edge sealing process to achieve an edge finish that matches the surface – no easy feat working with MDF!
ProFinish is our go-to finish for wall and ceiling panels and is fully compatible with our edge seal and finishing system.
We call the gloss a "dull rub" which feels almost leathery in texture. The gloss level averages a 15 – 20 degree sheen. Check out the picture below with a detailed Ogee edge showing the quality of the finished edge using our special process.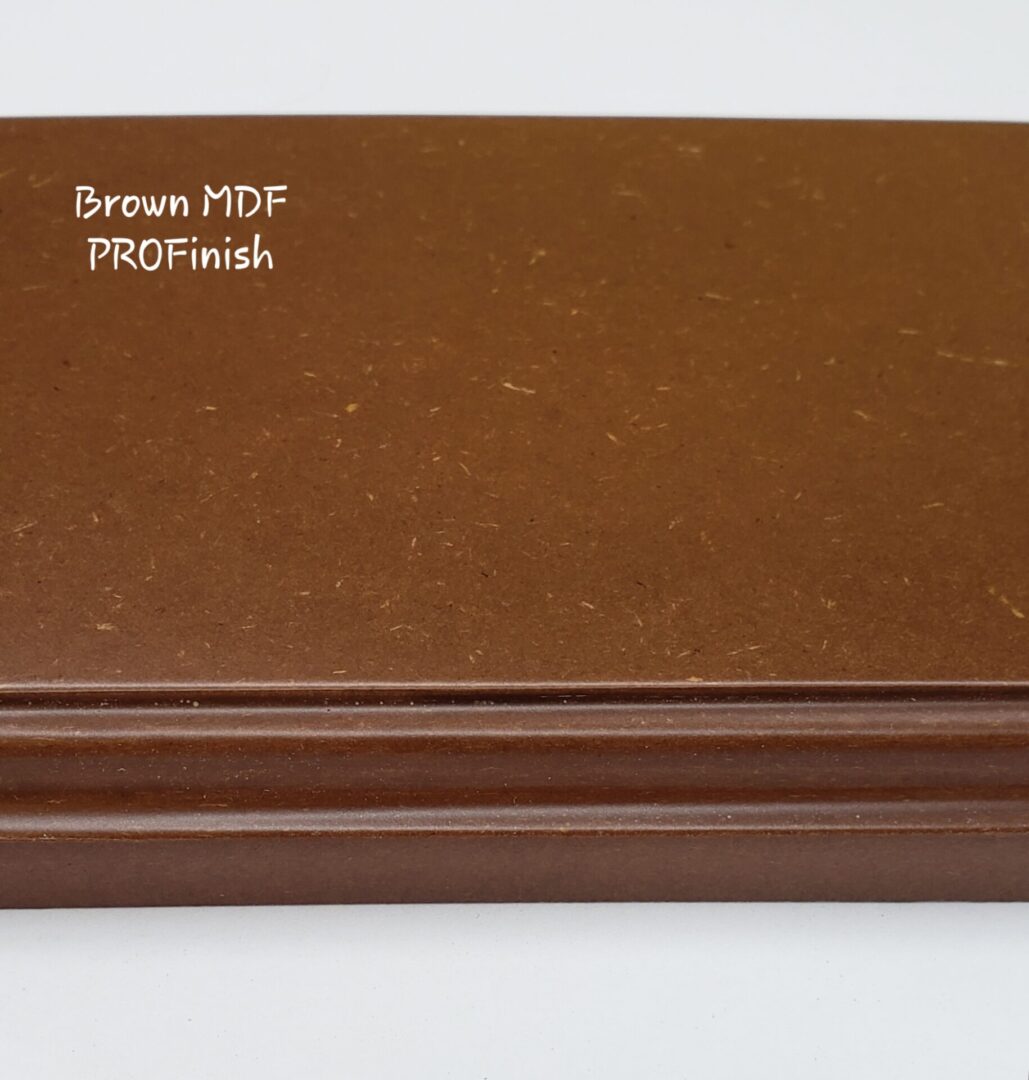 ProFinish Eco is our water-based clear coating alternative to the lacquer coating. Like the ProFinish system, ProFinish Eco is also catalyzed. Certain coating specifications prefer low VOC finishes, and this finish delivers that feature well. While not quite as durable as the ProFinish, ProFinish Eco is widely used in cabinetry and furniture, along with wall panel applications. Gloss level is 20 - 25 degrees.
There is an interesting variation in color when these two clear coatings are used, as you can see from the picture of GeoTone Curry below: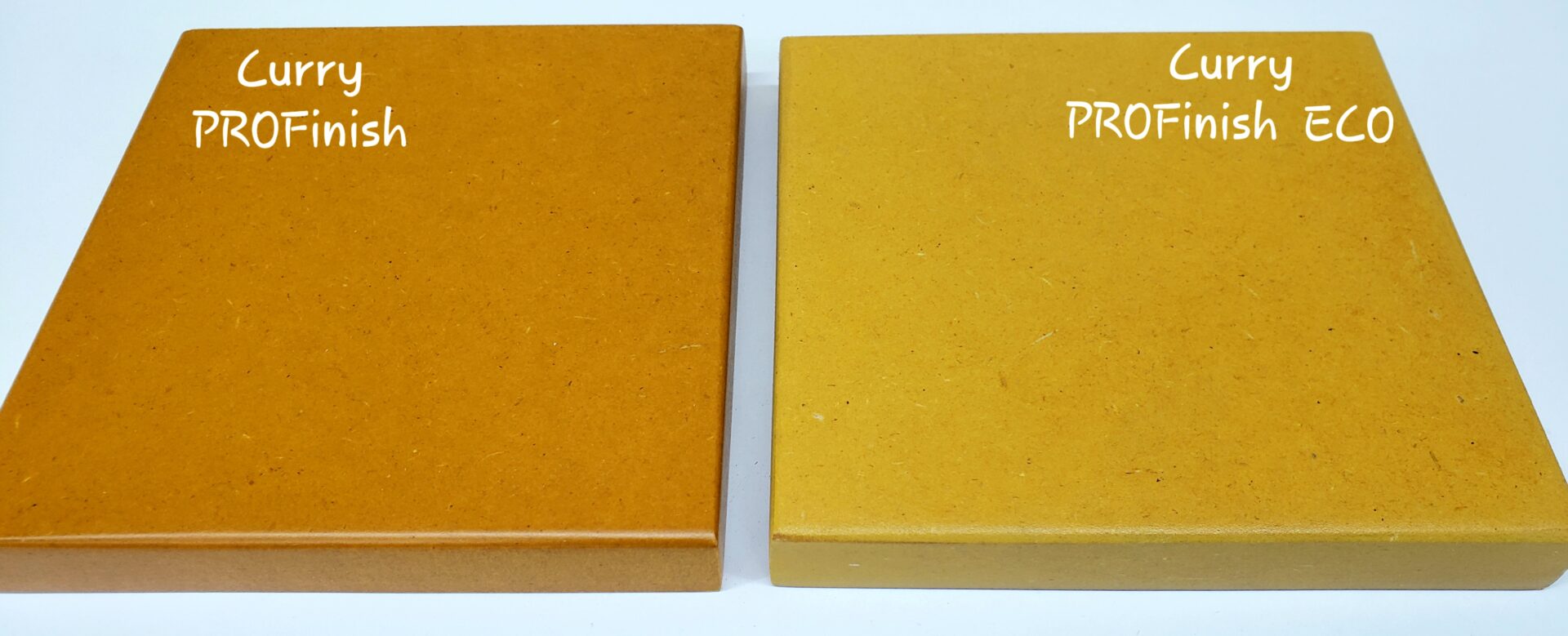 We import certain Colored MDF products manufactured as a Class A fire rating (as tested to the ASTM E-84 protocol). However, if we don't have a particular item in stock manufactured as Class A, we have an alternative solution. We can apply a special topical coating to allow us to sell the panel as Class A as long as the treated surfaces are not otherwise fabricated. This is a bit complex to understand, so call us for more information and pricing.
For our Tricoya ExDF product, particularly laminated with a wood veneer, we offer a clear coating designed to protect, enhance, and extend the veneer's service life. Of course, Tricoya ExDF can go outside by itself with no protection and still perform beyond expectations – even in contact with soil! But clear coatings for exterior performance are a challenge. Unlike pigmented coatings, clear coatings can have limitations in their formulation to provide acceptable durability, stability, and weather resistance. In addition, UV exposure puts an additional performance hurdle in place. We have found a marine-grade coating system that has outperformed every other coating we've evaluated. With over six years on our test fence, this system has demonstrated that it not only protects the veneer but has also shown phenomenal resistance to UV degradation. The bonus is this coating system can be serviced and maintained in the field.
We will continue to test exterior clear finishes to expand the set of options for this demanding application.
We are developing a Matte finish using Danish Oil. So far, this coating shows amazing promise and ranks high on the environmental stability scale. While we have yet to perform performance tests, the aesthetic we've achieved is amazing. Silky smooth without any sheen.
We can now offer laminated veneers to any of our substrate materials. And consistent with our environmental focus, all our adhesives are formaldehyde-free. We stock bamboo veneer in three different colors and different grain patterns. In addition, we have entered into a supply arrangement with a leading veneer supplier specializing in domestic and exotic hardwood and softwood veneer, including hundreds of species and grain configurations.
This picture shows a maple veneer over Black MDF and then routed with random grooves. This shows the contrast and 3-D effect that is possible. Other veneers have similar effects – like walnut on Purple MDF and oak on Green MDF.
By laminating to the TricoyaExDF, we can offer a 4 x 8 panel in any wood grain for exterior applications. Our coating system protects the veneer for multi-year carefree maintenance and is serviceable in the field. Imagine the possibilities of a large panel with the wood species of your choice for outdoor applications – another first for Trinity Innovations!
While most of our panel sales are in full sheet configurations, we have expanded our ability to cut panels to customer's specifications. This has been especially helpful for our DIY segment, who typically cannot handle full sheet sized material and order directly from us through our online store. The other advantage this capability provides is cutting down some of the larger sheet sizes, like the 81.5" x 110" GeoTone Colored MDF. We maintain a +/- 0.125"' tolerance on all cut to size requirements.
CNC Machining
Because all our panel products are used in some fashion in decorative, component, and casework applications, we get many requests for custom machining into final components – many of which require CNC routing. We now have the capability to offer this dynamic capability to our portfolio.
Our 3-axis machines have automatic tool changing, and all the machine programming is done in house.
This has particularly advanced, in a significant way, our ability to offer custom carved panels. If you imagine it and we can digitize your design, we can reproduce it!
We have launched the concept of carved letters from our Colored MDF Collection (available in the online store) and will be introducing a line of carved panels soon.