Innovative Architectural
Building Products
Colored MDF, Tricoya ExDF, Bamboo
& More Sustainable Products
Globally Sourced And Available Nationwide
Trinity Innovations prides itself on introducing innovative new architectural building products to the North American market.
We only focus on products with the highest marks for sustainability, performance, unique features, impactful design, and creative elements. In addition to our amazing product portfolio, we are frequently asked to consult on materials and options. 
OUR PRODUCT PORTFOLIO AT A GLANCE 
Our various Collection of Colored MDF have transformed how designers and manufacturers approach their design options. This unique product eliminates the need for laminates and edge banding for an all-natural approach to the world of color, contrast and texture.
Simply the most revolutionary exterior building product in decades. 
Considered a mature product in architectural millwork, we have partnered with Europe's top bamboo supplier MOSO International, leading the market in new ways to configure one of the world's most sustainable and highest performing building products. 
Sustainable products have become a prerequisite to the built environment. It can be confusing, and sometimes we are misled when researching products with positive environmental attributes. Trinity Innovations provides clear documentation to all the environmental features of our products.
These features include no added formaldehyde (NAF) and Class A fire retardancy. Only products top in their class for both sustainability and performance qualify for Trinity Innovation's Product Portfolio. 
TI is excited to now offer our thinnest Colored MDF in 5mm (0.197"). Perfect for signage, backing panels and accent components. Colors: Light Grey, Red, Yellow, Orange, Blue and Green in 4 x 8 panel size. We have also introduced a 3mm thickness (1/8") in Black 4 x 8.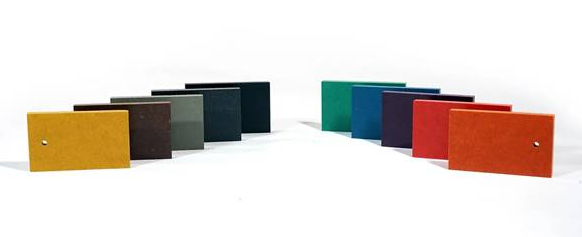 New Colors: We are excited to announce the addition of Sand Grey to our GeoTone Color Palette. This unique color expands our neutral color options and also meets our NAF feature for the GeoTone Collection. This color replaces the GeoTone Grey. New to the Valchromat Collection is Khaki and expands our earth tone color palette. You can see these colors when you order a sample kit.
Trinity has expanded its value-added services. Driven by customer demand, we are now offering laminating, pre-finishing, and CNC machining to our colored MDF, Tricoya ExDF, and Bamboo products. 
Click the READ MORE button for more information.